Like most quilters, I started out making traditional bed quilts. Since then, the focus of my work has evolved into my unique three-dimensional thread sculptures.
I am proud that my work has made its way into private and public collections, been exhibited on five continents, and even appeared in a Hollywood movie. After Amazon Web Services bought one of my art quilts (The Alarm Clock Rings), a friend said, "You're the only person I know who sold something TO Amazon!"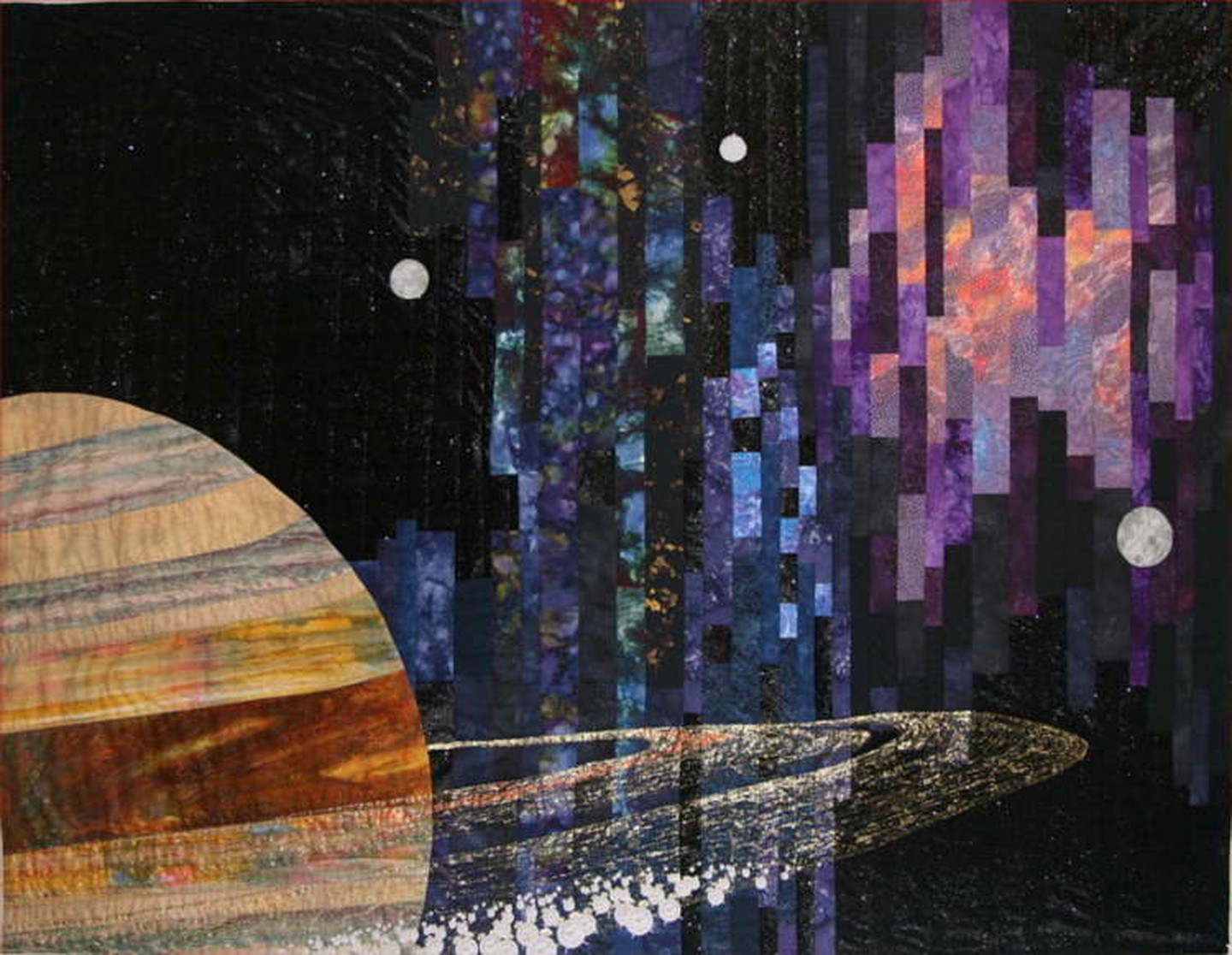 In 1986, after my mother (a terrific seamstress) told me how much she was enjoying her first quilting class, I had to try it too. My first course resulted in a traditional twelve-block sampler quilt. It was entirely hand-pieced and hand-quilted. I survived that first quilt and was hooked - but knew that handwork wasn't for me. I had too many things I wanted to make, and never enough time.
During the last class the instructor passed around some quilting magazines. One had an article about Joen Wolfrom. It just about knocked me out of my seat, since all the quilts I'd seen up till then were traditional. I realized that quilts could be art, could be expressive, even abstract. So my second quilt was a simple pieced landscape wall hanging of a place I'd been in the Caribbean - and I made it almost entirely by machine.
My interest in landscapes goes way back, at least to my college major of cartography. The mix of art and science in that field was very attractive to me. I had always enjoyed math and the sciences, so throwing in some art in a scientific career was just too fun! My landscape quilts have benefited from my map-making days, studying drafting and the principles of color, design and perception. I still love looking at aerial and space photography too.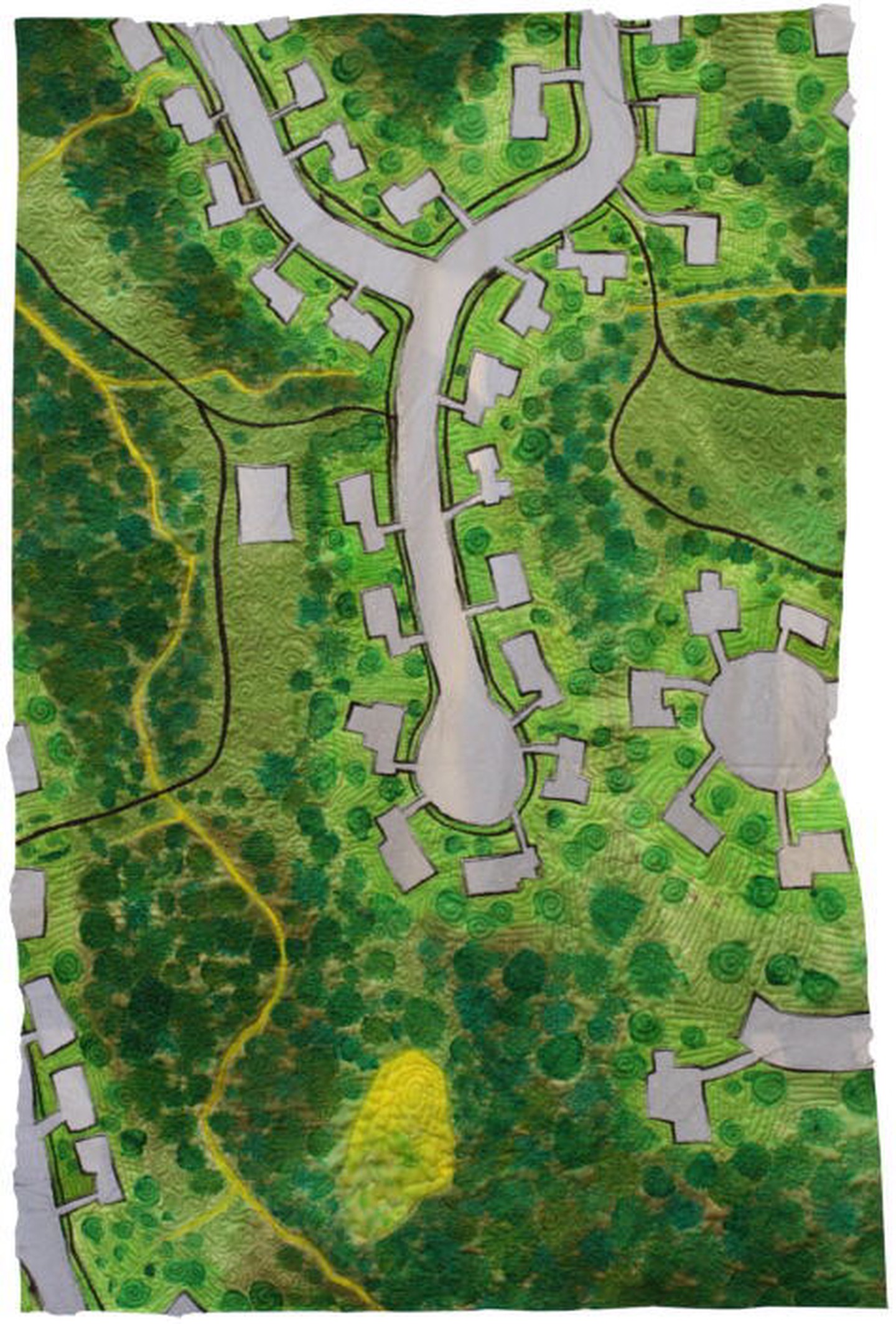 When my daughter was born, I resigned my position as a supervisory cartographer and became an at-home mother. A year later I started my business, Doughty Designs, in the niche market of hand-drawn quilt labels. Not long thereafter I wandered into a shop in my town that sells quilts. I walked out with a commission to make a quilt of antique cars, as none of the employees could draft the design. The store owner later commissioned a series of scenes of historic buildings in our town, and customers' homes.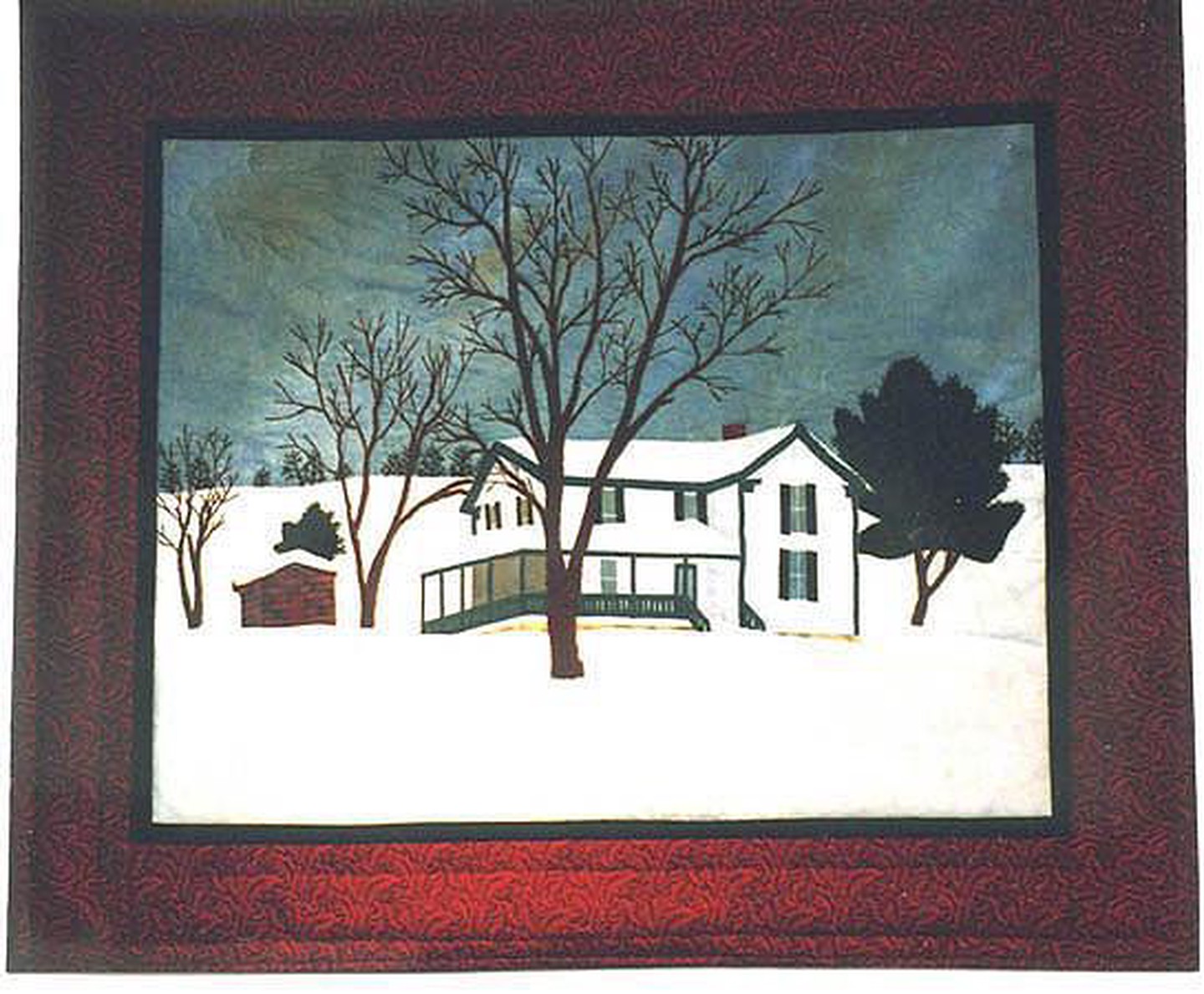 That was really the start of my landscape quilting. It led to a commission from a quilt store in Maryland to design a line of historic lighthouses wall hangings and write the patterns; I also did a lighthouse block-of-the-month pattern for a Texas store.
I am a "visual" person and like looking at shapes of trees, unusual architecture, colors of clouds… But a good piece of advice I learned early on was to make art about what you know. Many of my quilts are about my interests or places near where I live.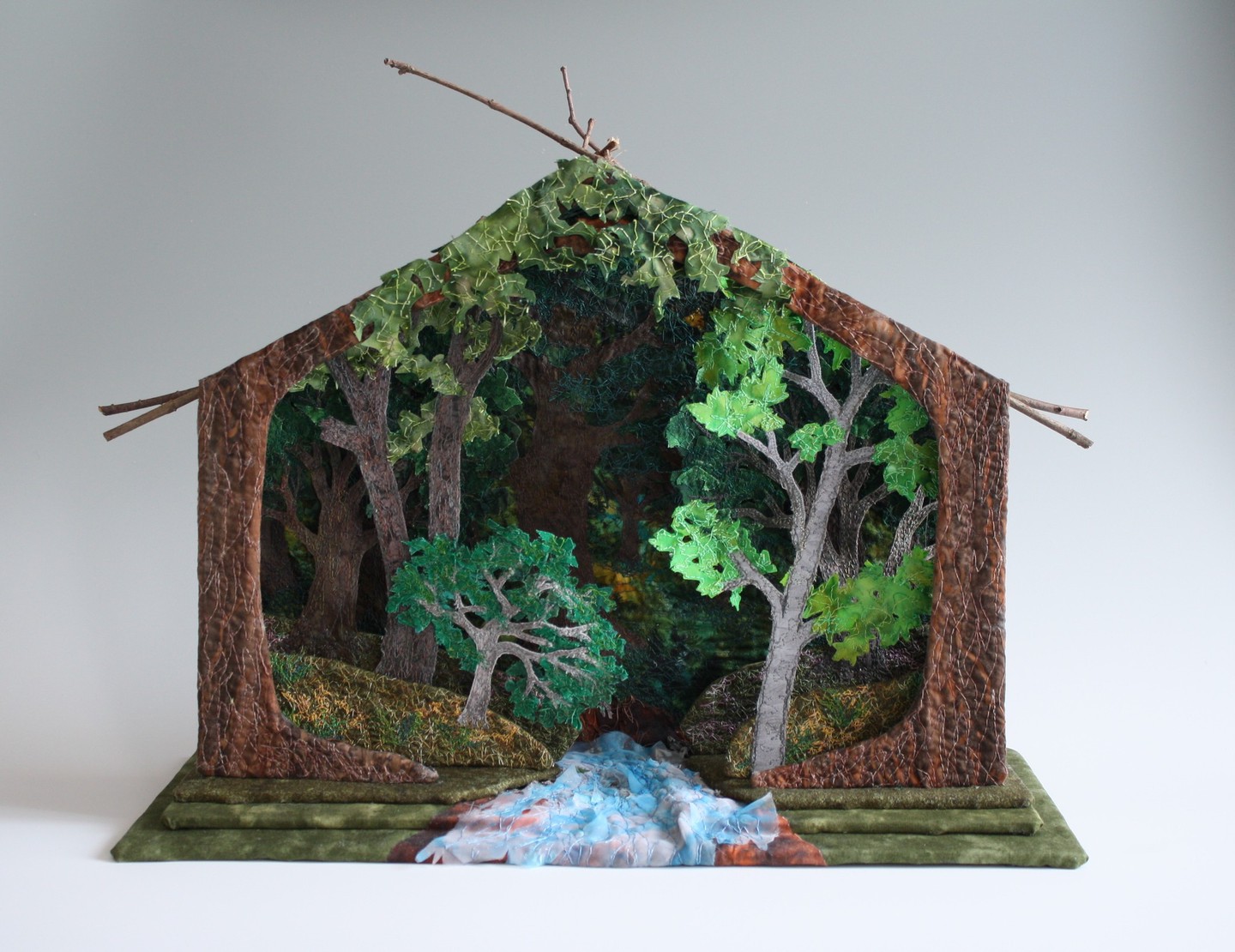 Designing an art quilt does not come easily for me. It takes a lot of work and thinking. I do not normally envision the whole design in my head. However, my sketches for a piece are not detailed, and probably don't look like much to anyone else. The sketch gets my ideas down in tangible form and gives me a starting place. Starting a new quilt is so hard - there are so many decisions to make. I start with a small step I know I can do. It's sort of like the quote about being a writer, "Just put down one damn word after another." Once in a while, of course, there is an exception. "The Alarm Clock Rings" (the first quilt on this page, above) was for a challenge called the "Space/Time Continuum" and the title just popped into my head! The design came very easily just from the pun of the title.
I love to do thread painting. "Root Domain", which will always be one of my favorites, and is probably my best-known quilt, has extensive thread painting. I am a rather lazy quilter, and started doing thread painting because I hate turning under edges for applique. With this technique, I cut out a shape (such as tree foliage), pin it to the background, lower my machine's feed dogs, and "scribble" the heck out of it with thread.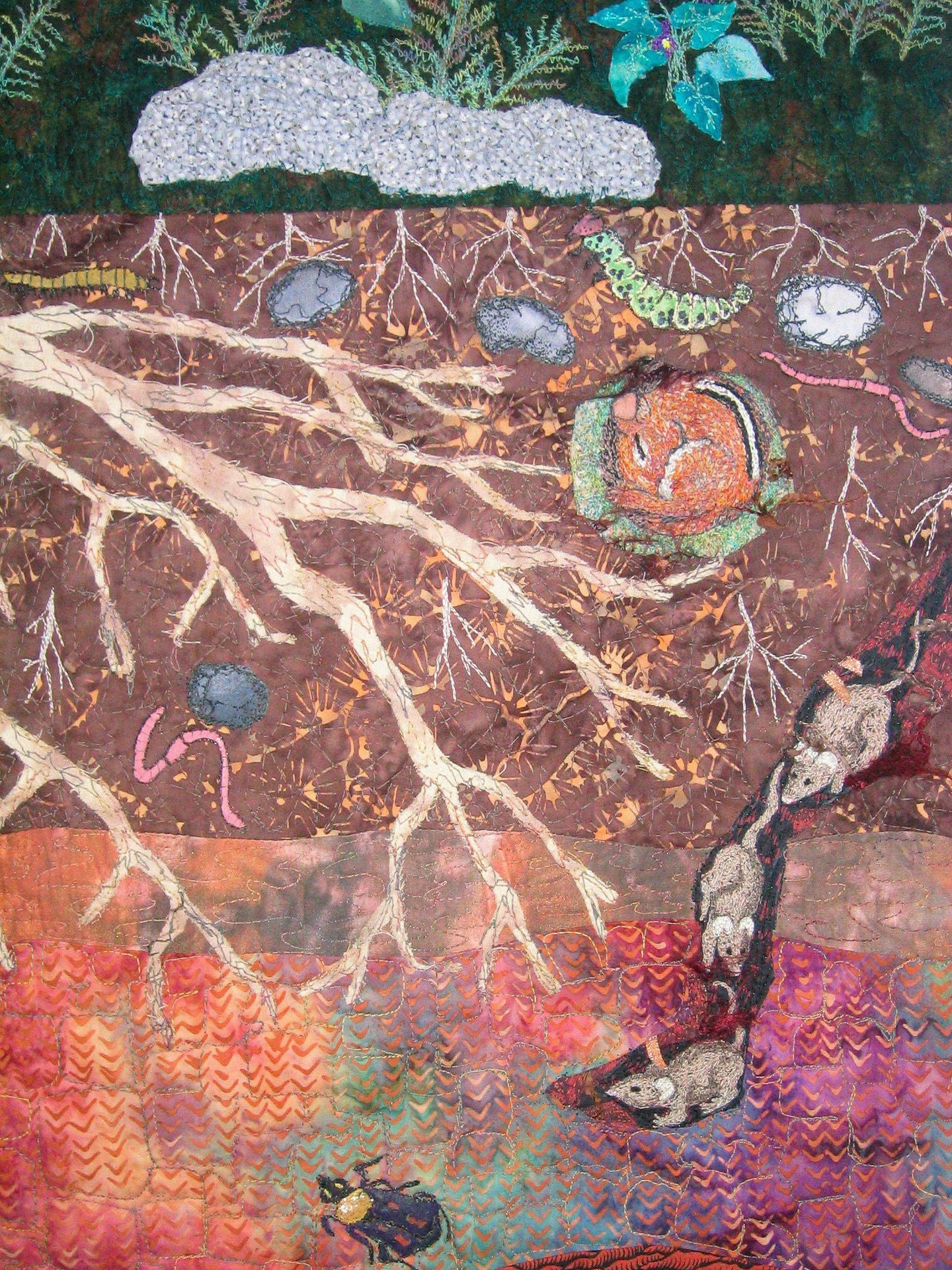 This quilt made it onto the set of a major Hollywood movie, "Wanderlust." My only regret was that it wasn't the type of movie my mother would enjoy seeing; she took my word for it. It was an out-of-body experience to see my quilt on the big screen.
One of my biggest thrills was being chosen for a very special commission in 2001. The Arts Council of Fairfax County selected me to make an ornament for the White House Christmas tree. (Four artists were selected from each state and the District of Columbia.) One thing in my favor was that the theme that year was historic homes, and each ornament had to be small, lightweight and three-dimensional. Apparently the Council thought a quilter could do that more easily than a painter. "Yes, I can do that!" I said on the phone when they called. I hung up and said to myself, "How the heck am I going to do that?"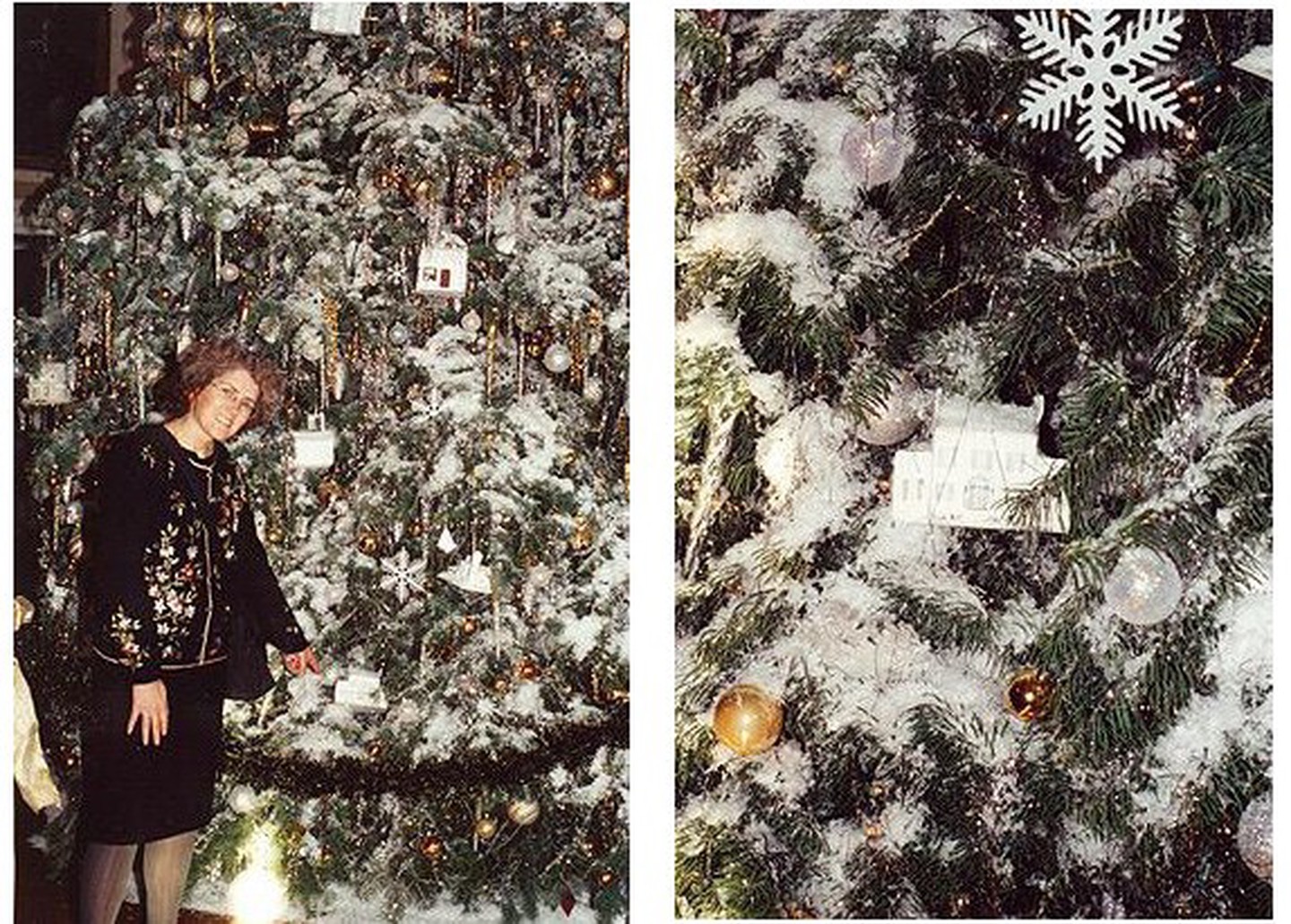 I made an ornament of President James Monroe's beautiful home, Oak Hill. My husband and I attended the artists' reception held on the entire ground floor of the White House and felt like visiting royalty. We could even sit on the furniture. We had our picture taken with a most gracious First Lady.
Since 2005, I've been a member of Potomac Fiber Arts Guild, the oldest such quild in the metro Washington, DC area (founded in 1944). Part of that guild is the Potomac Fiber Arts Gallery at the Torpedo Factory in Alexandria, Virginia. It really was a factory making torpedoes for the first half of the 20th century. The building was saved from demolition and opened as an art center in 1974, and has been going strong ever since.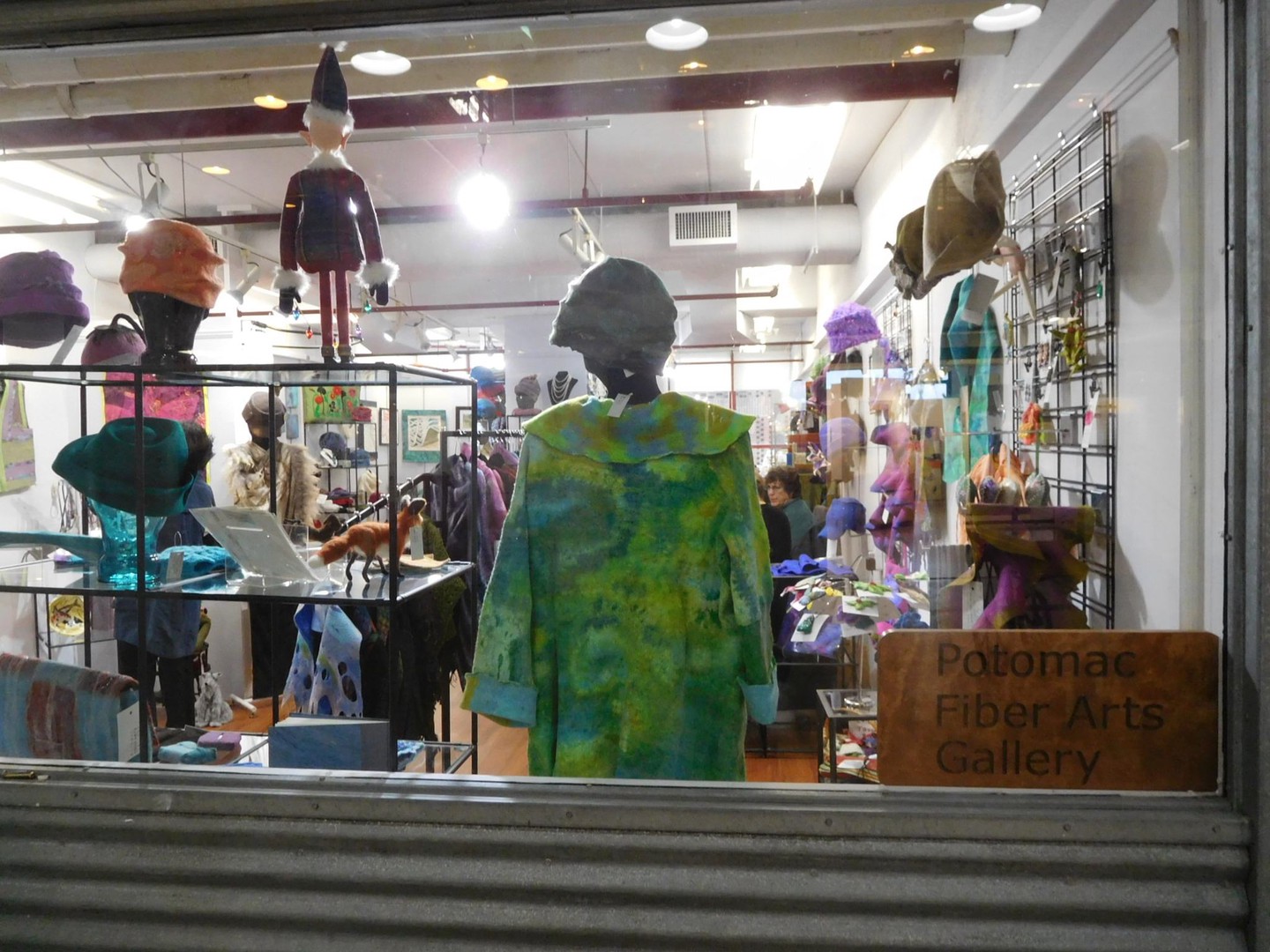 Surface design workshops introduced me to many ways to execute a design: painting, stamping, foiling, silk screening, discharging, etc. It is great to have a lot of "tools in my toolbox" from which to choose. I now paint much of my own fabric. For me, painting is a lot less fuss than dyeing, especially when only a small amount of yardage is needed. Painted fabric also is much less likely to fade - important for public art projects.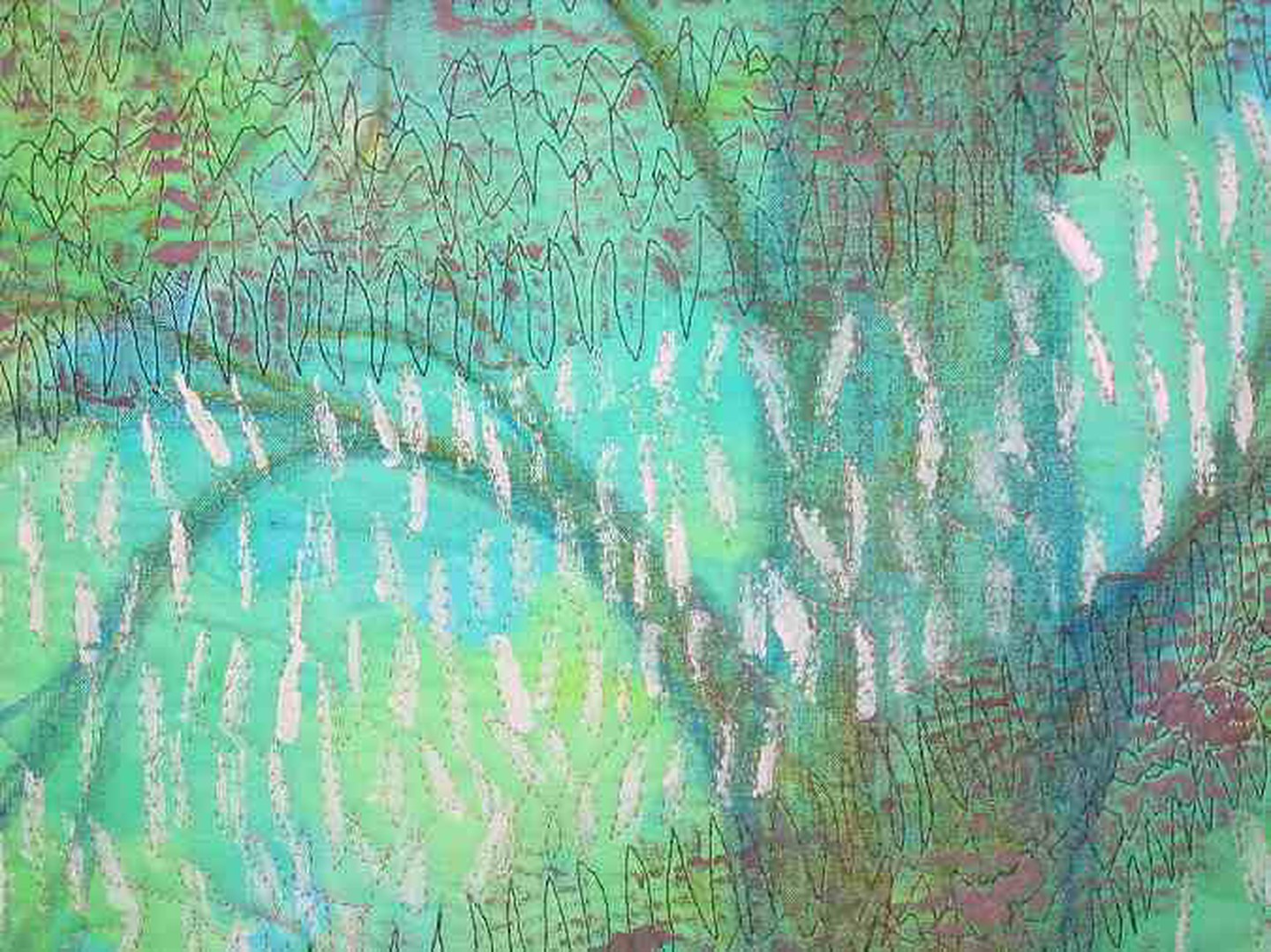 My artwork continues to evolve. My philosophy is that I am a fiber artist, and my work should emphasize that it cannot be achieved with a simple flat surface. My newest work has more dimensionality by employing frayed edges, weaving, holes, non-cotton fabrics, non-textile materials, multiple layers, etc. I have also expressed my worldview in my art.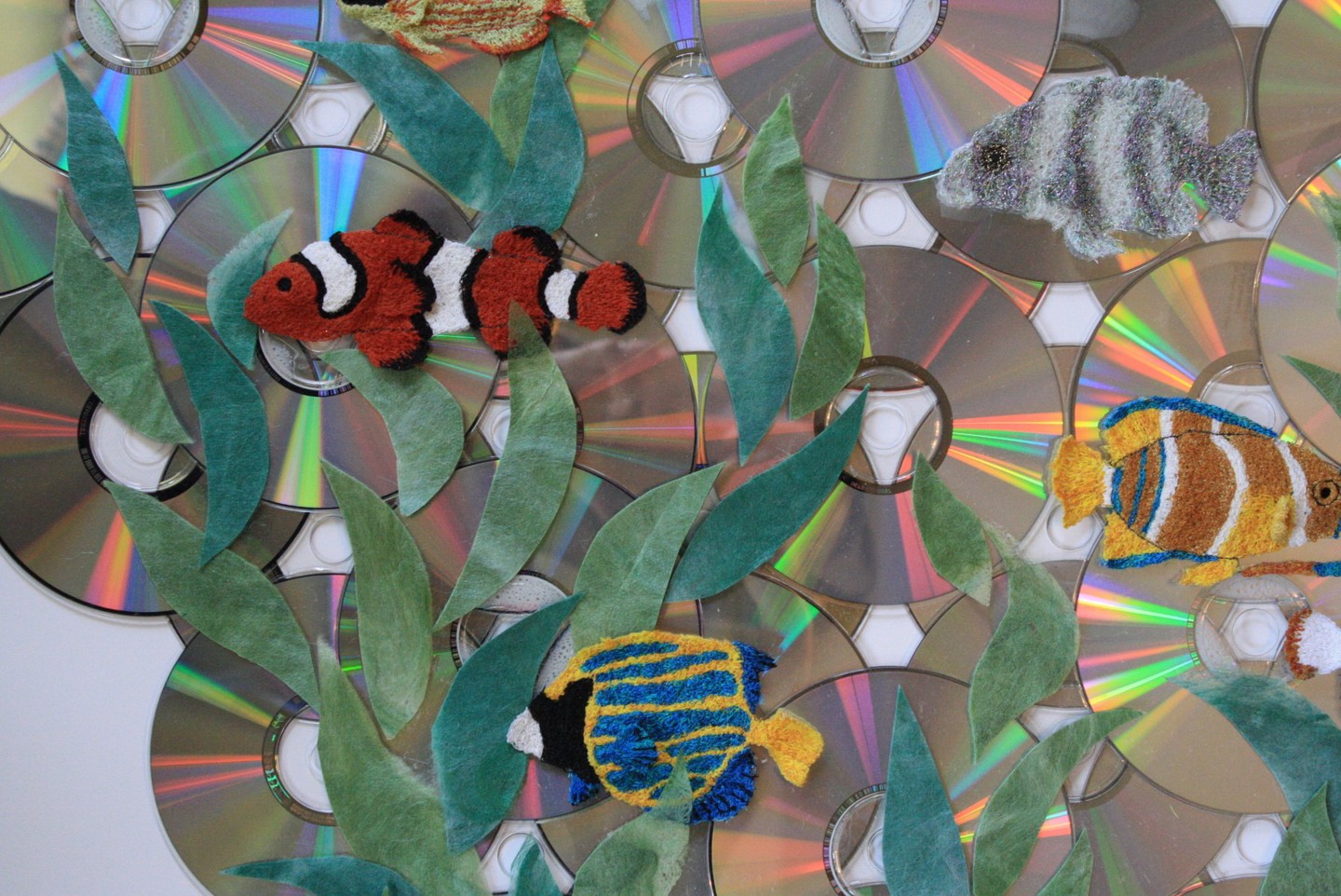 My newest adventure is volunteering as a docent for the Smithsonian American Art Museum, which includes the Renwick Museum (showcase of American craft). Eighteen months of training has taught me so much about our country's art and our history too - and where we may go from here. I hope to see you at either location for a tour!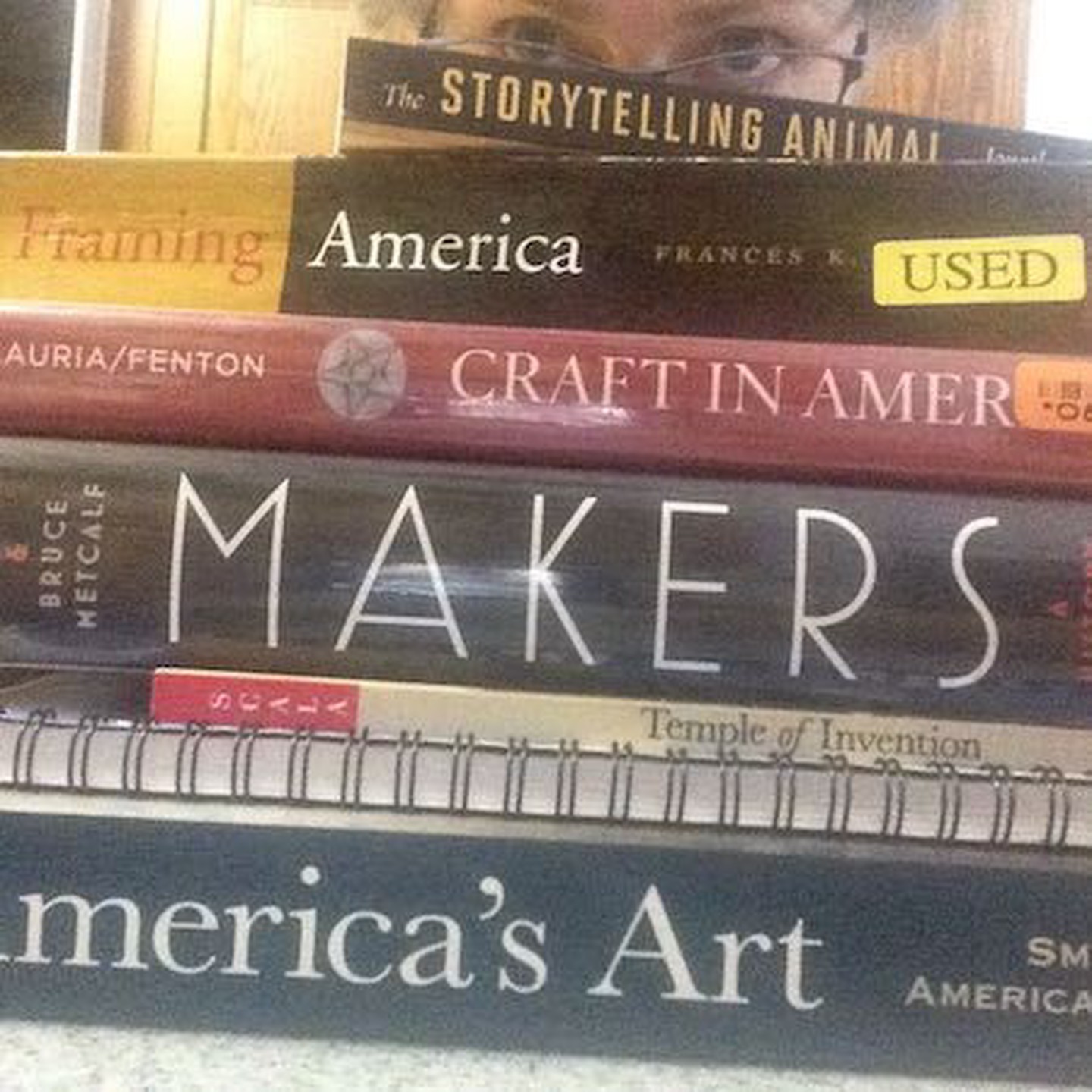 I am having fun with my art, and always learning, and being challenged. I am glad to read in art publications that "beauty is back" because I do try to have an element of beauty in my work.