The Old Patent Office is the current home of the Smithsonian American Art Museum (SAAM) and National Portrait Gallery (NPG). It has a long history going back to the early days of our nation's capitol.
My art quilt was made for the exhibition Inspired by The National Capital Area.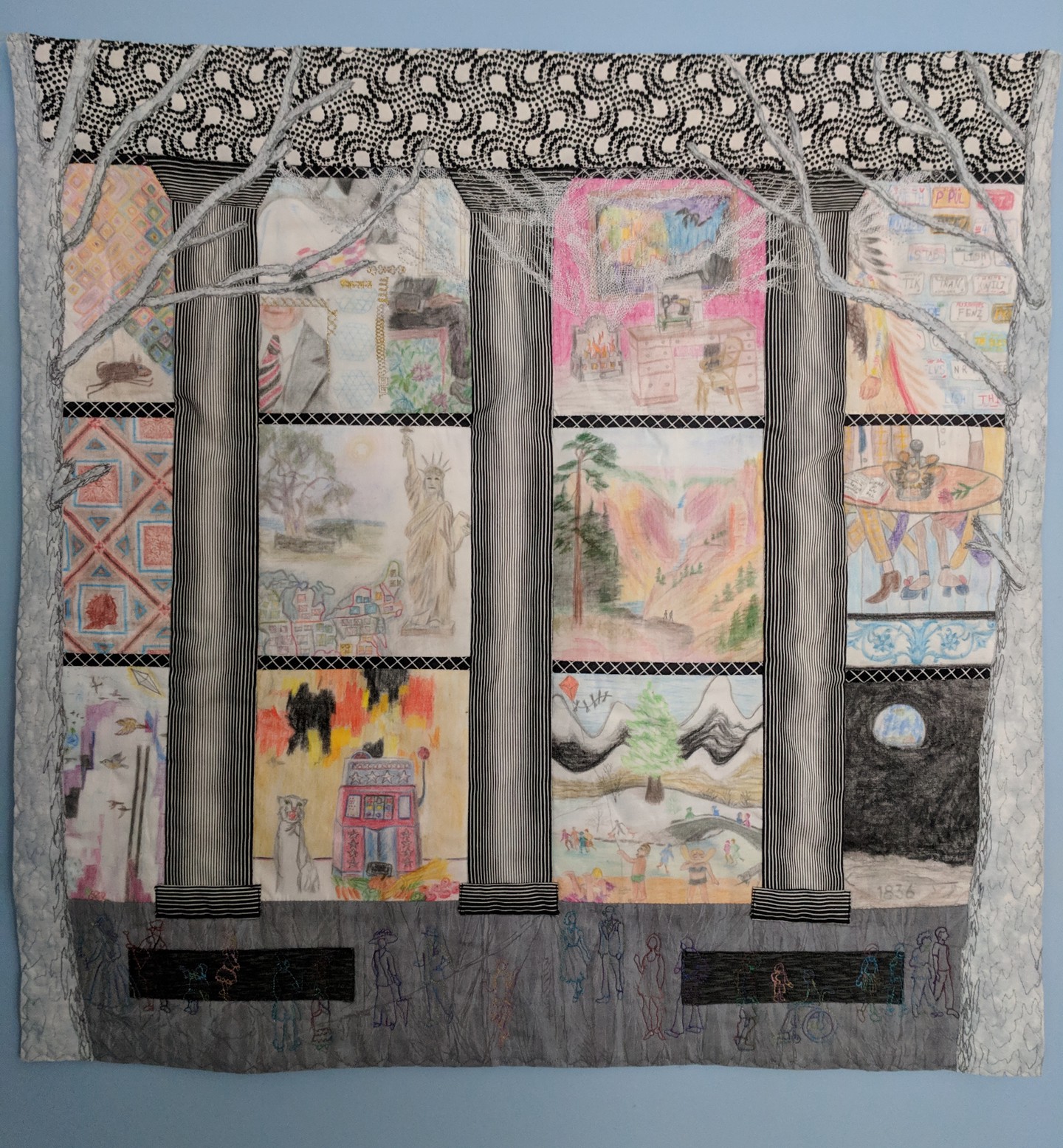 My quilt is composed of scenes of art, architecture and history. Original artwork in the collections, the basis for my colored-pencil drawings, are Credit: Smithsonian American Art Museum, National Portrait Gallery
Charles J. Robertson's fascinating book about the historic building is Temple of Invention: History of a National Landmark
I took artistic license with the architecture of the building, as though there were no walls in the interior courtyard. Between massive columns, there are three floors depicting notable - or my favorites - from the collections of the two Smithsonian museums in the building. These are the artists and titles, and architectural or historical inspirations.
Top row:
Chuck Close, William J. Clinton
Bill Traylor, Untitled (Rabbit)
Amy Sherald, First Lady Michelle Obama
Glass etching detail of interior window on third floor
Everett Raymond Kinstler, Gerald Ford
Kadir Nelson, Henrietta Lacks
Kehinde Wiley, Barack Obama
Picture frames are important too! I used some programmed stitches and metallic thread.
Singer Sewing Machine patent model in case - on display in NPG
Jaune Quick-To-See Smith, State Names. I modified the map to reflect the Civil War era.
1877 historic fire, imaginary period office furniture and grate
George Catlin, Wán-ee-ton, Chief of the Tribe
Mike Wilkins, Preamble
Second row:
Encaustic floor tiles, 3rd floor
Flora/Bill of Sale - a rarely seen life-size silhouette of a nineteen-year-old enslaved girl, along with the bill of her sale from 1796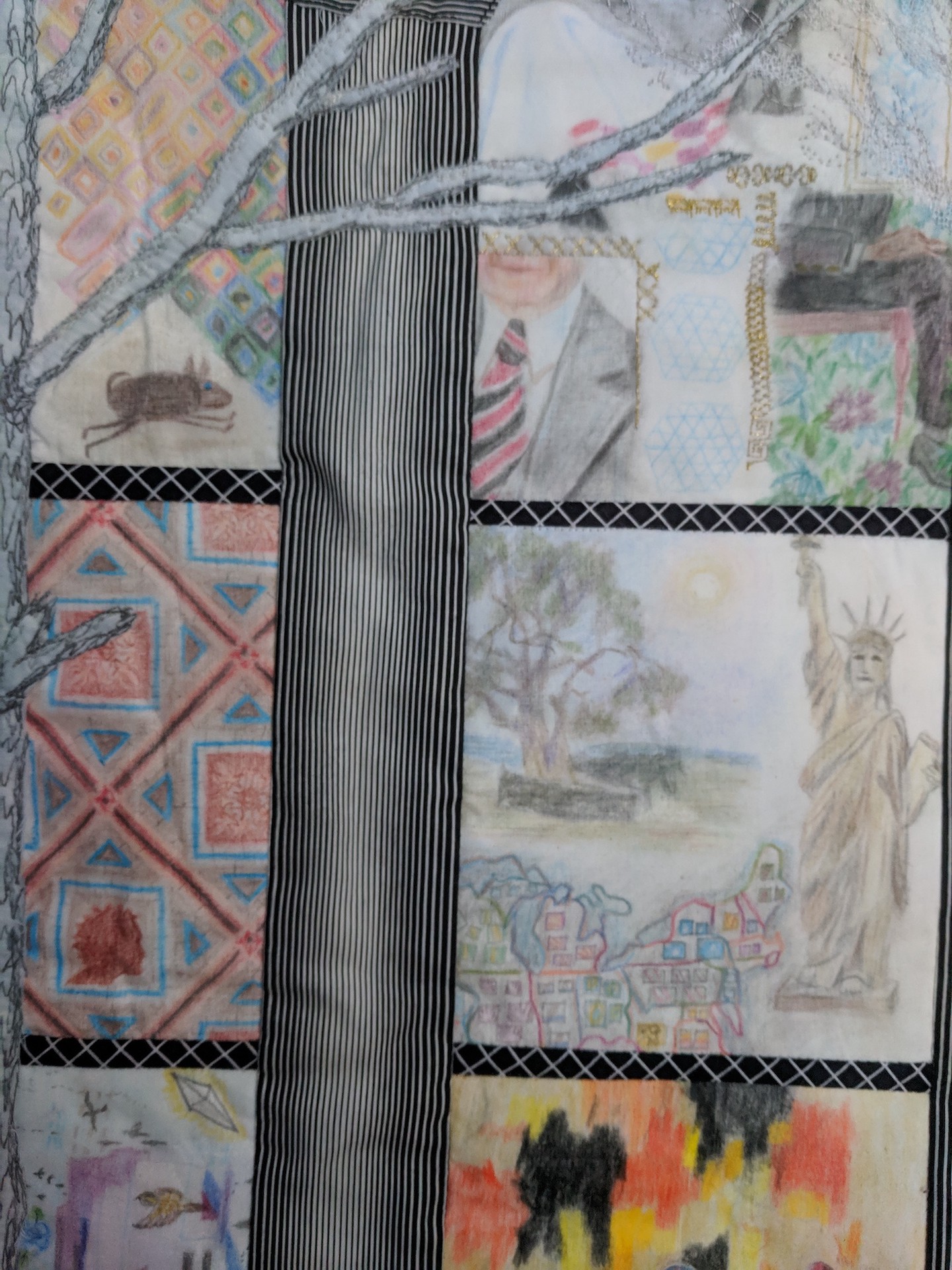 Henry Ossawa Tanner, Abraham's Oak
Frederic Auguste Bartholdi, Liberty
Nam June Paik, Electronic Superhighway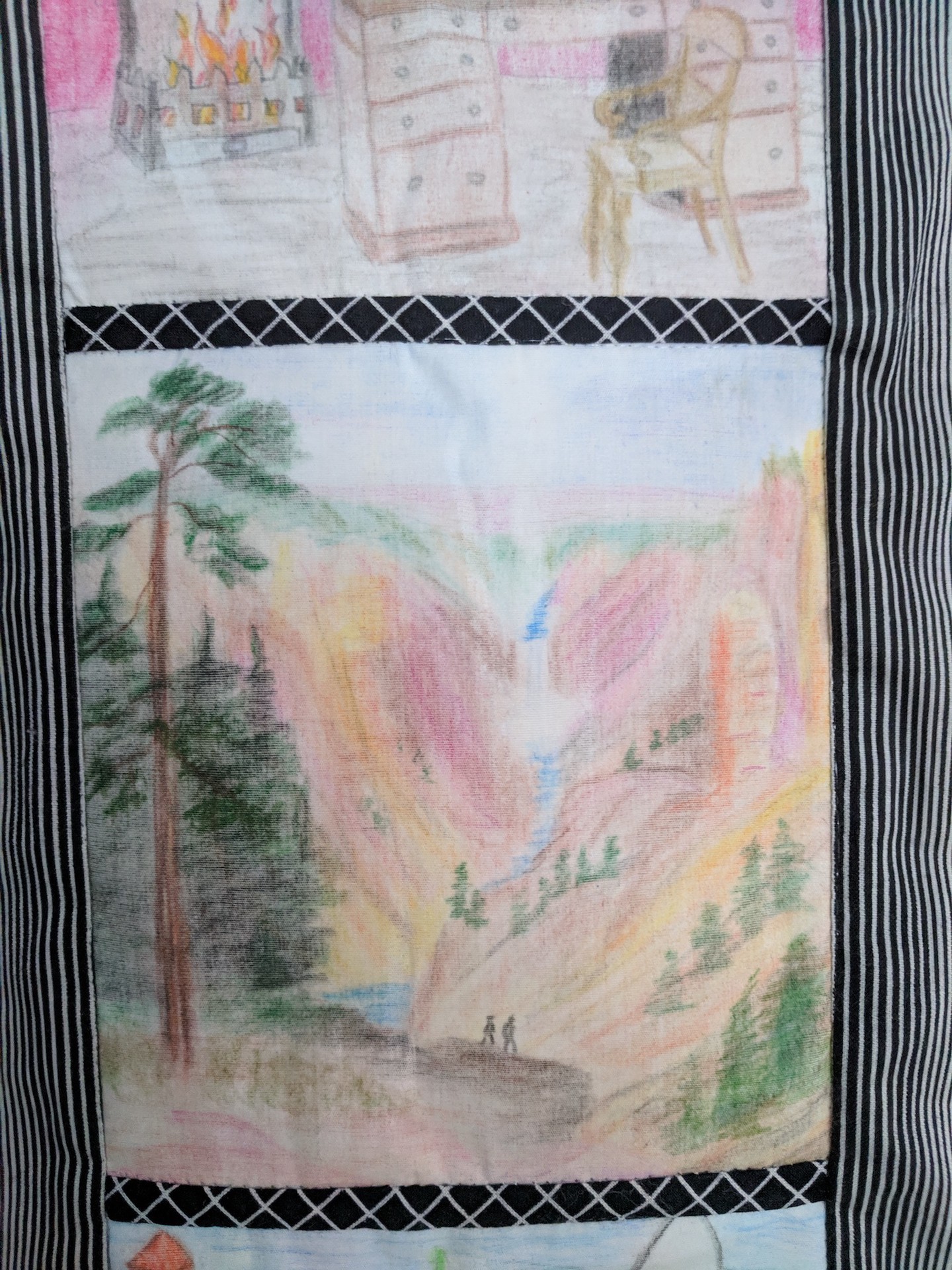 Thomas Moran, The Grand Canyon of the Yellowstone
William H. Johnson, Cafe
Winslow Homer, red flower from A Visit from the Old Mistress
James Hampton, crown from The Throne of the Third Heaven of the Nations' Millennium General Assembly
Charles Willson Peale, book from Mrs. James Smith and Grandson
architectural detail, stair and mezzanine railings
Third row:
Trevor Paglen, Diamond Reflector
Tom Uttech, Mamakadendagwad
Georgia O'Keeffe, Manhattan
Wayne Thiebaud, Jackpot Machine
Olga Albizu, Radiante
Mickalene Thomas, tiger from Portrait of Mnonja
Thomas Hart Benton, farm bounty from Achelous and Hercules
David Huchthausen, Alpine Landscape (Baden bei Wien #177)
Gertrude Goodrich, Scenes of American Life (Beach)
Agnes Tait, Skating in Central Park
William Alison Anders, Earthrise, Apollo 8 This iconic picture taken in 1968, the year the building opened with SAAM and NPG. Large print of picture on display in NPG.
1836: construction begins on the Patent Office Building
Borders:
Left and right sides:
David Beck, ghost trees from MVSEVM
Top:
glass courtyard ceiling, designed by Foster + Partners
Bottom:
Scrim fountains in the courtyard floor
Quilted outlines of visitors, from 1836 to present, stroll through the courtyard. Without them, the art's "just stuff."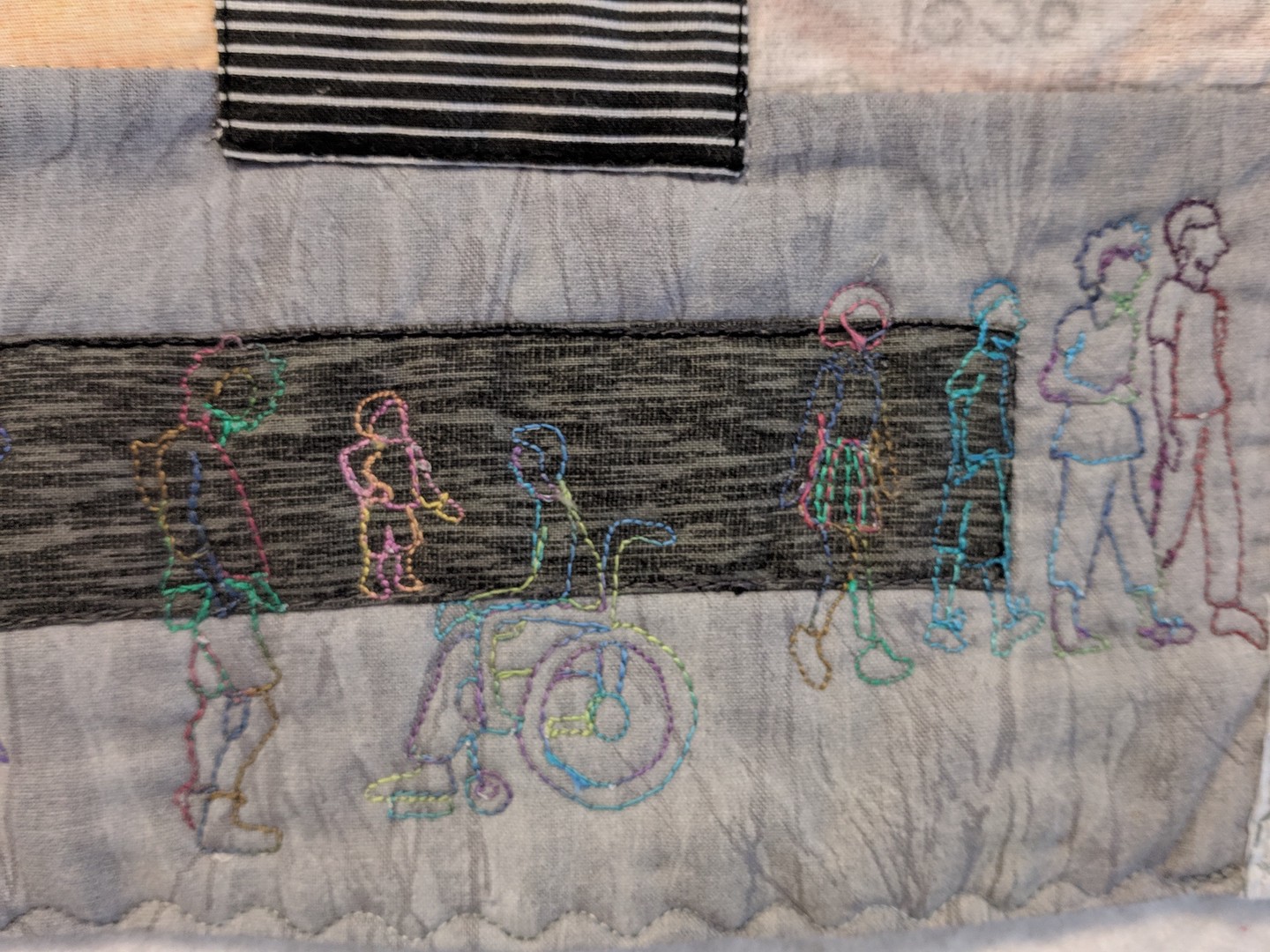 Quilt back: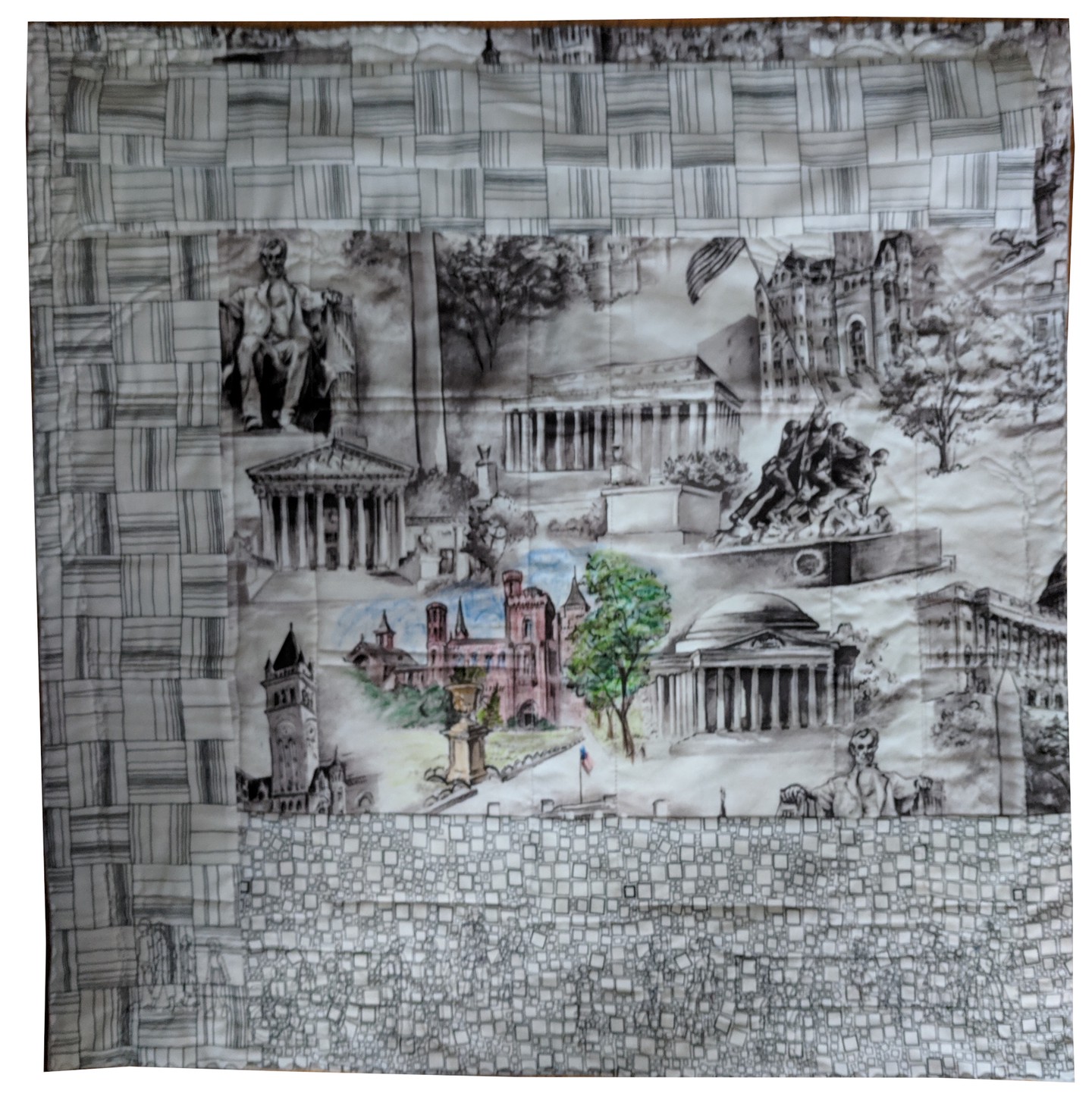 A grey-scale commercial print of monuments and landmarks in Washington, DC. I colored the Smithsonian Castle vignette with fabric pastels. The label on the back is framed by a docent lanyard, with the words "celebrating 50 years of artful conversation" - in honor of the 50th anniversary of the SAAM docent corps.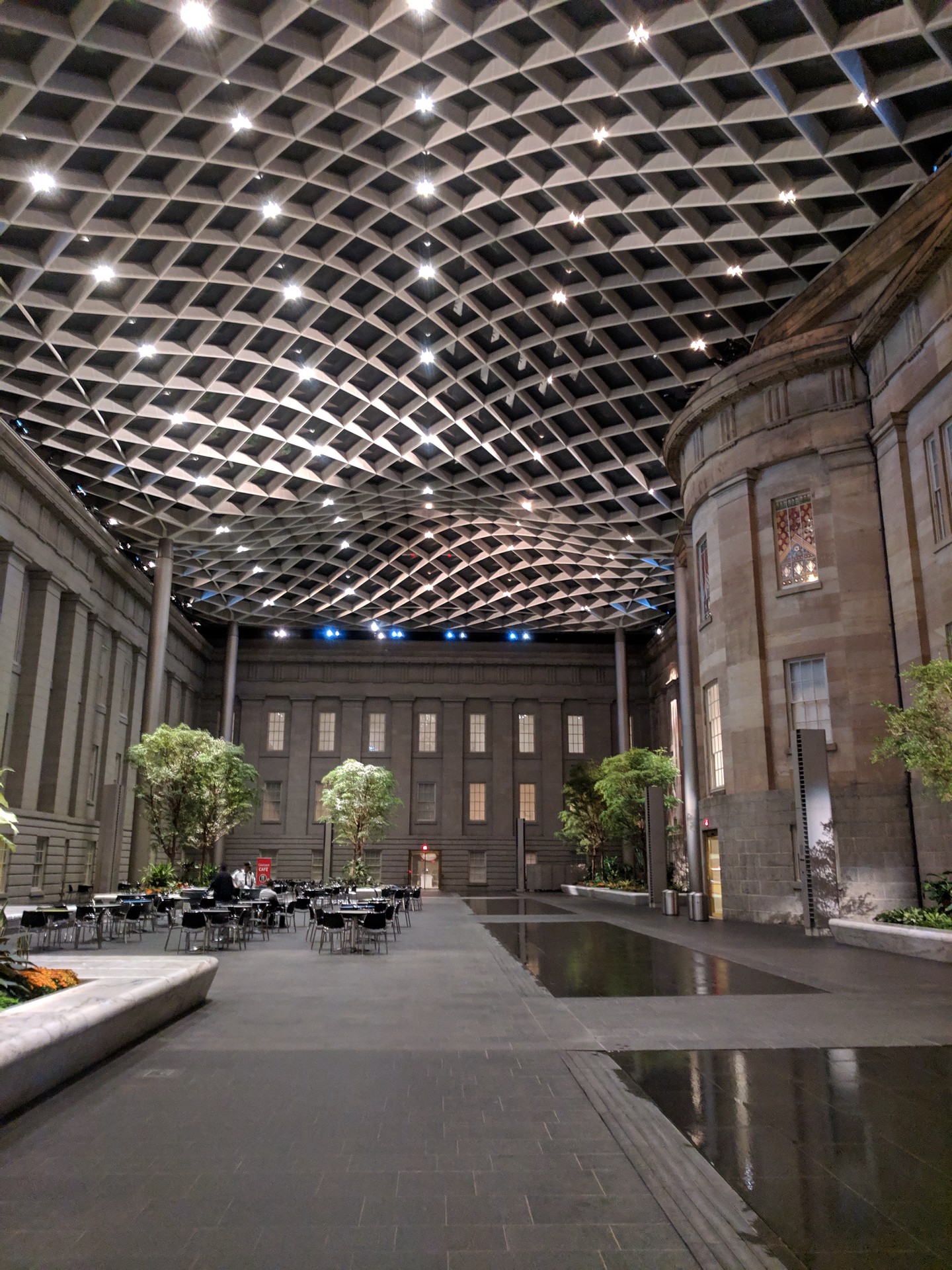 24 x 24 inches
Cotton fabrics, color pencil, polyester netting. Machine pieced, appliqued and quilted. Color pencil areas protected with acrylic varnish.