During the Dark Ages, Irish monks preserved knowledge in beautiful manuscripts. The Irish became renowned as story-tellers, poets, playwrights. Words are the base of this work – literally and thematically.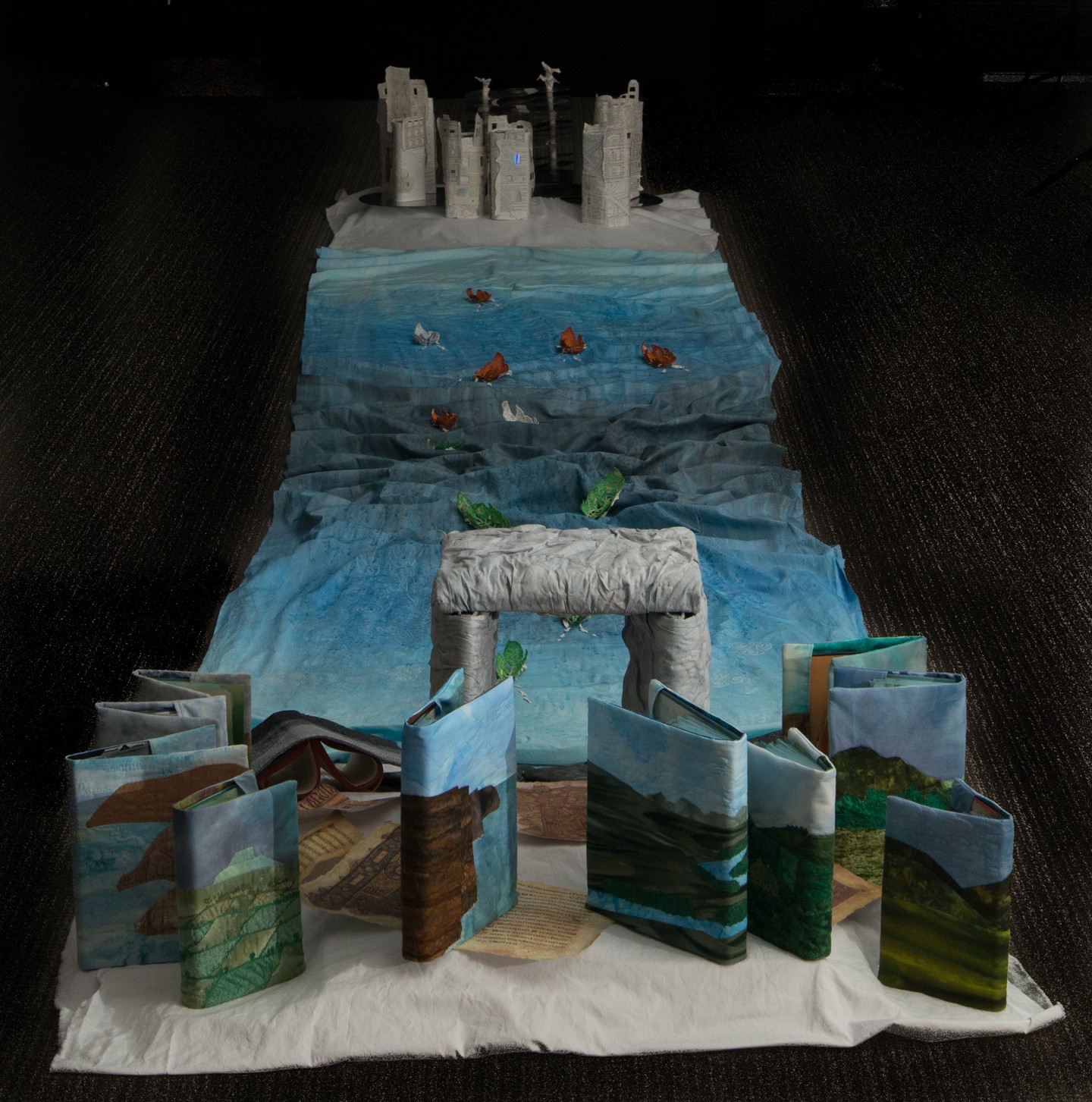 The stories are told in the land, and the ancient carved stones, and the beautifully illuminations of the monks' manuscripts.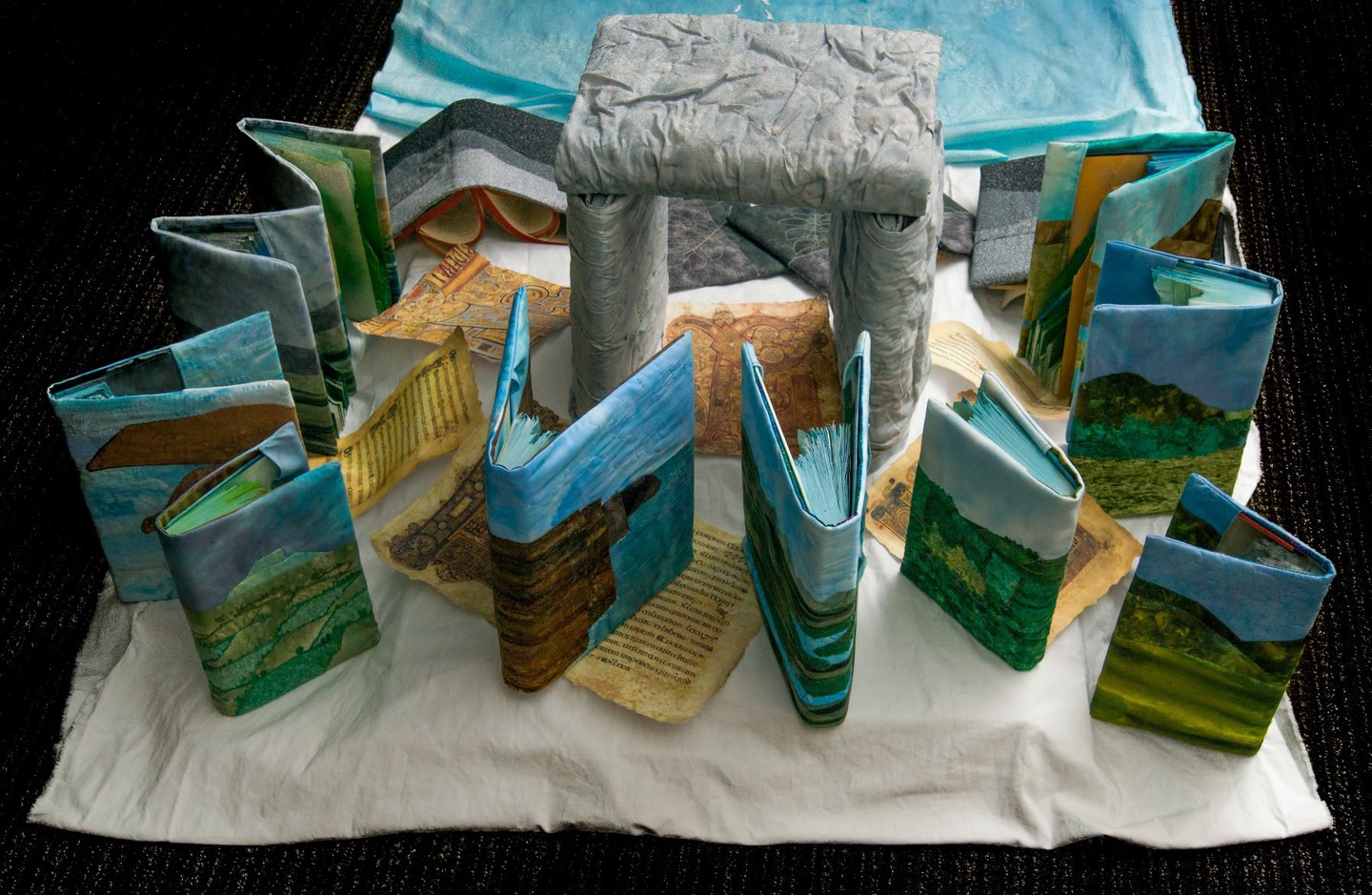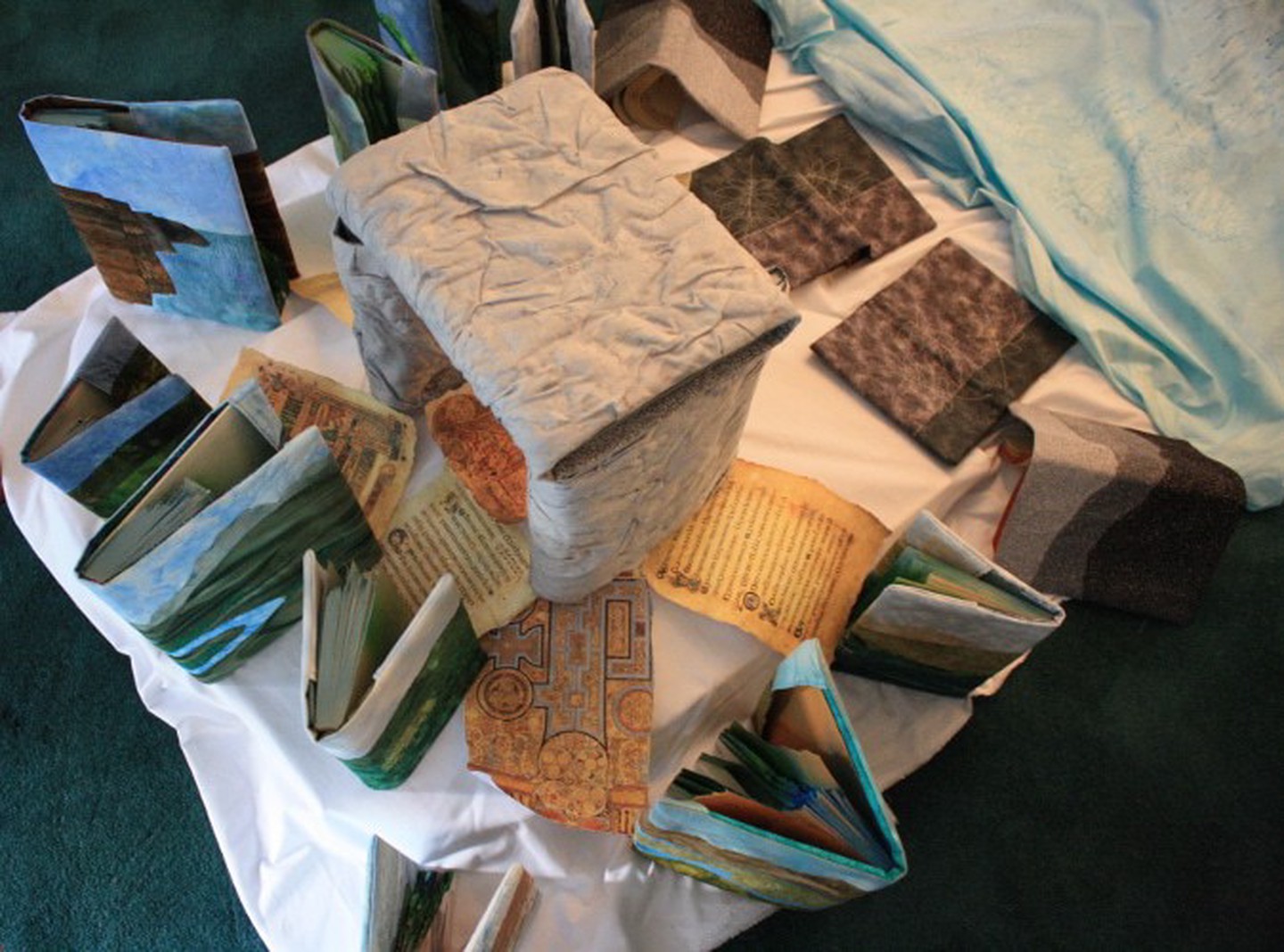 Many Ulster ("orange") Irish emigrated to America in the 1700s. Poorer Catholics followed in the early 1800s. Two million (1/4 of the population) left during the 1840's Great Hunger (misleadingly called the Potato Famine), as English landlords let a million more die of starvation or typhus.
The village of Skibbereen was the blackest heart of the Great Hunger. Half of each following generation left Ireland, until the 1920s. They sailed the stormy Atlantic, their stories in tatters, too painful to pass to their children, leaving the old landscapes empty of people.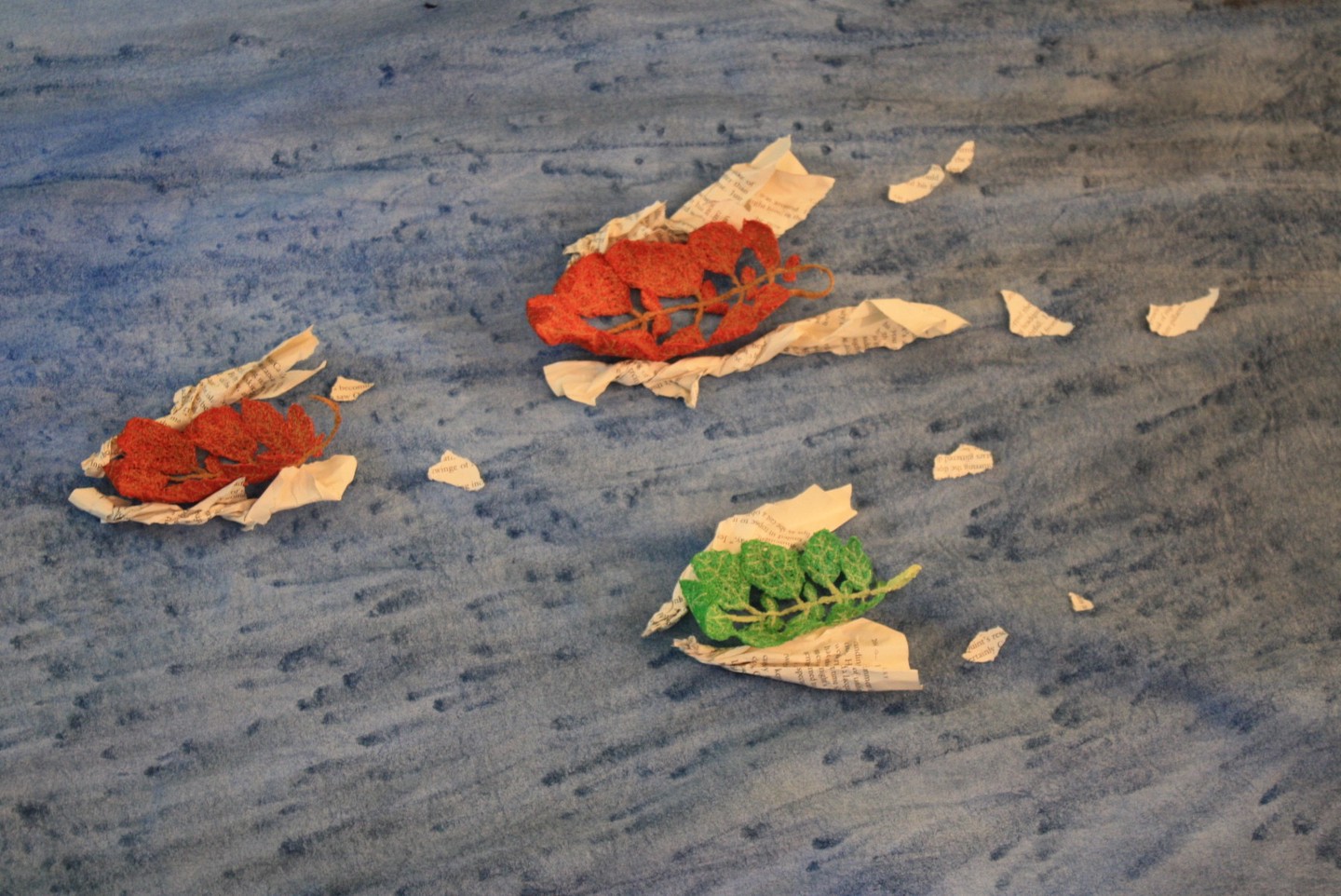 The potato leaf boats' wake is the tatters of the stories.
The Irish came to a New World, particularly New York City and Boston. Instead of streets paved with gold, they found crowded tenements. Their descendants, including myself, assimilated and became part of their new country's fabric and future.
Look down on the city streets and see yourself in the reflection, a part of their continuing story.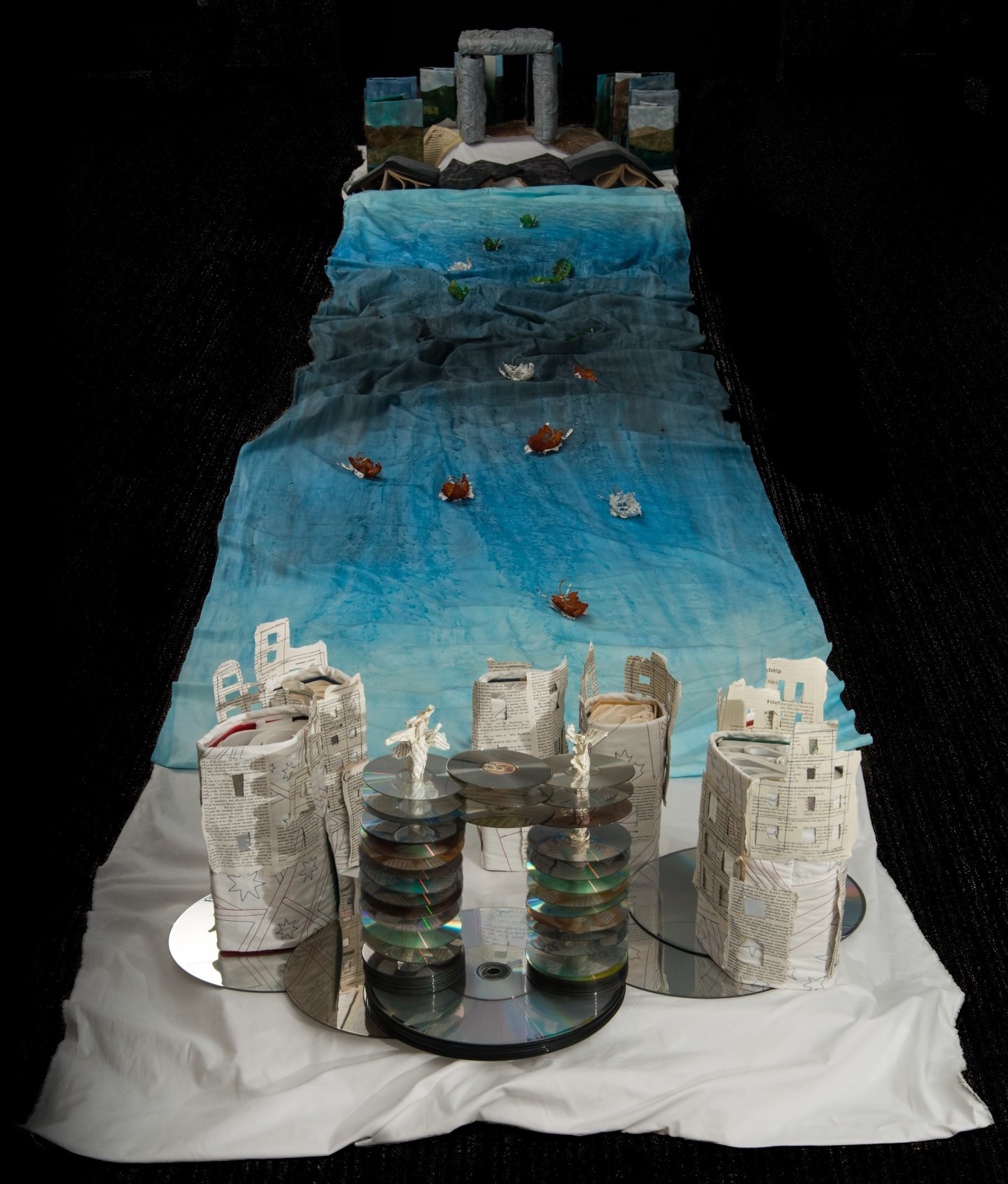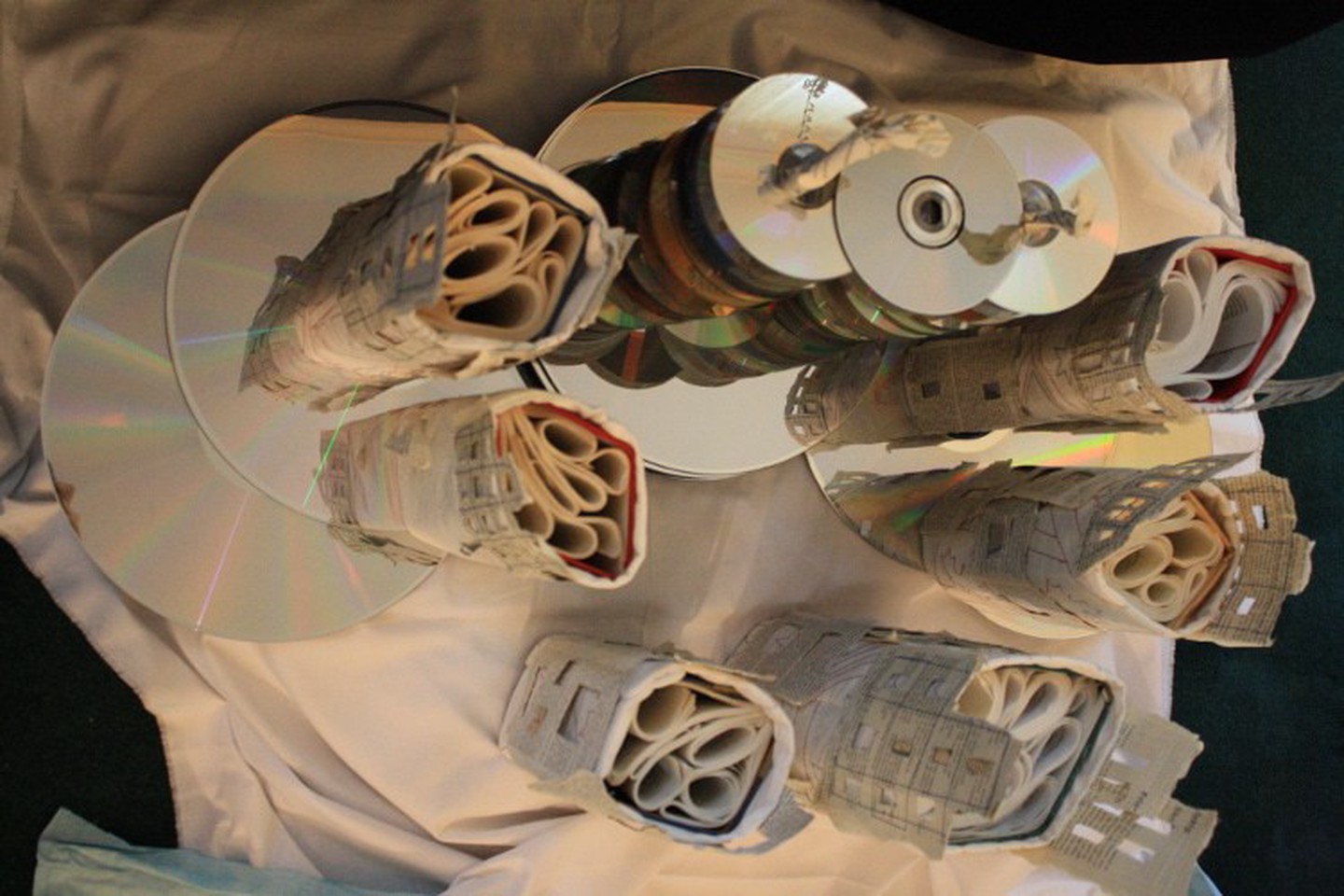 Watch a test video showing the full installation in my backyard, and the inspiration behind this work.
Part 1:

Part 2:

Techniques
machine pieced, appliquéd, quilted, and hand-stitched fabrics;
machine-stitched, stiffened cotton threads;
painted, free-hand inked;
books altered by tearing away pages and spray-painting inside, curling pages, bending covers
Materials
Ireland:
altered books, covered with quilted landscapes;
dolmen interior has machine-stitched motifs of prehistoric rock carvings;
photo-reproductions from Book of Kells
Ocean:
cotton fabrics loosely gathered in center like waves;
at Irish end has stitched and inked Celtic interlacing motifs, changing to storm wave designs;
potato-leaf boats of cotton threads in flag colors of green, white or orange, some with brown "fungus;"
bits of torn pages hand-stitched to boat sides and scattered in wake
New World:
altered books, covers quilted with motifs of US/Can/Aus/UK flags, partially covered with torn/cut/stitched pages, some windows contain CD fragments;
CD dolmen-structure has torn pages glued to undersides; American elm twigs;
laser disks
size = 18 x 248 x 42 inches (over 12 feet long)
Lyrics to "Skibbereen"
O, father dear I often hear you speak of Erin's Isle
Her lofty scenes, her valleys green, her mountains rude and wild
They say it is a lovely land wherein a prince might dwell
So why did you abandon it, the reason to me tell\
My son, I loved my native land with energy and pride
Till a blight came over all my crops and my sheep and cattle died
The rents and taxes were to pay and I could not them redeem
And that's the cruel reason why I left old Skibbereen
'Tis well I do remember that bleak November day
When the bailiff and the landlord came to drive us all away
They set the roof on fire with their cursed English spleen
And that's another reason why I left old Skibbereen
Your mother, too, God rest her soul, lay on the snowy ground
She fainted in her anguishing seeing the desolation round
She never rose, but passed away from life to immortal dreams
And that's another reason why I left old Skibbereen
Then sadly I recall the days of gloomy forty-eight.
I rose in vengeance with the boys to battle again' fate.
We were hunted through the mountains as traitors to the Queen,
And that, my boy, is the reason why I left old Skibbereen.
Oh you were only two years old and feeble was your frame
I could not leave you with my friends for you bore your father's name
So I wrapped you in my cóta mór at the dead of night unseen
And I heaved a sigh and I said goodbye to dear old Skibbereen.
Well father dear, the day will come when on vengeance we will call
And Irishmen both stout and tall will rally unto the call
I'll be the man to lead the van beneath the flag of green
And loud and high we'll raise the cry, "Revenge for Skibbereen!"