I aimed at making a wall hanging that was evocative of a beautiful tree in the middle of a forest. What season is it? There is something timeless represented in this piece.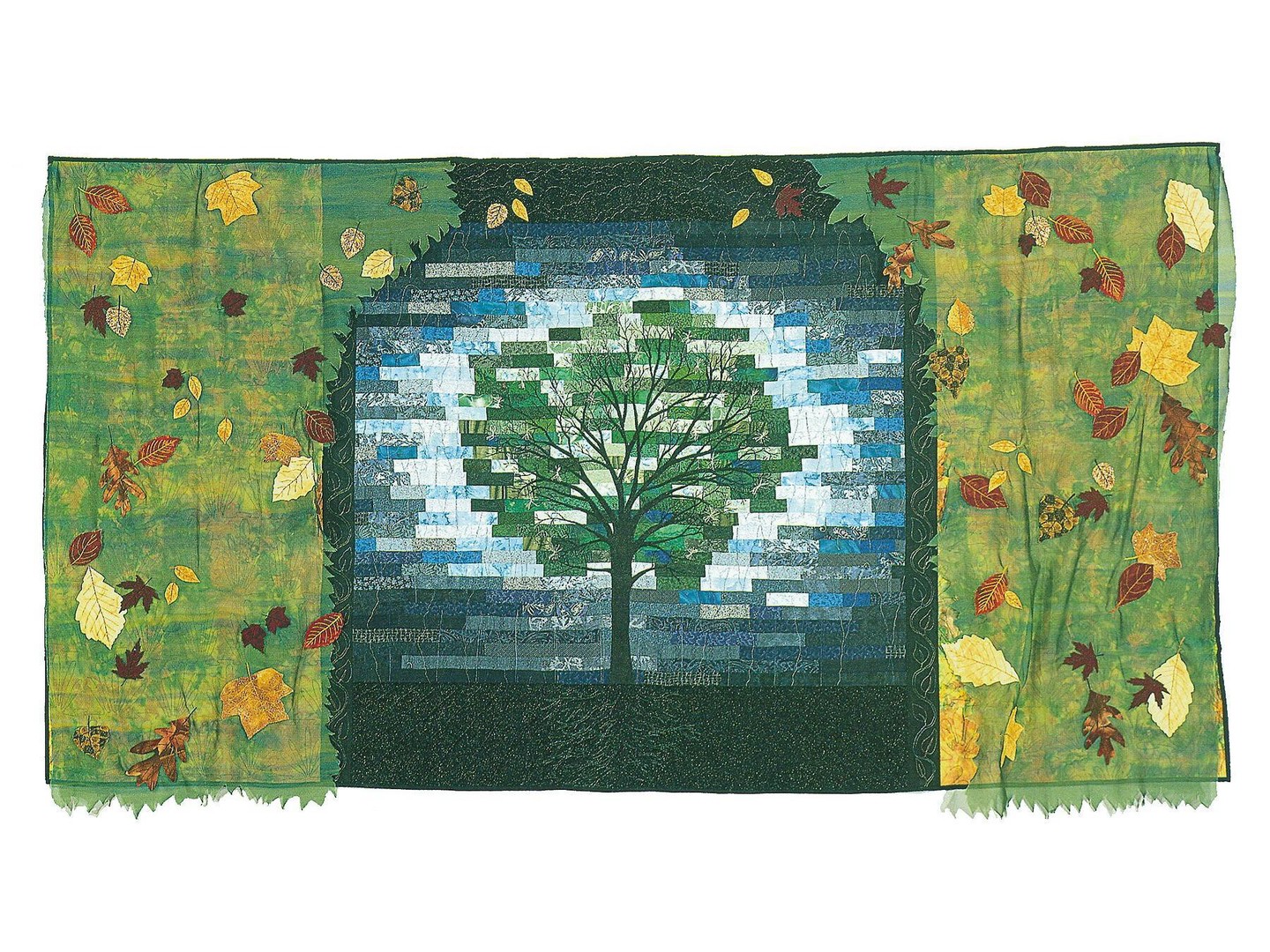 35" H x 84" W
Cotton fabrics, cotton batting, polyester "sheer" and knit fabrics
Machine pieced, thread sketched and quilted
I do love to sew trees! The tree trunk and branches are cut from one piece of black fabric. There is no seam allowance folded under; I sewed over the black fabric with black thread, and extended the thread sketching to make twigs. I attached small clusters of metallic silver thread to look like the tree has grown stars for fruit.
I chose the "Virgilia", or Yellowwood, tree partly because it is found in my part of the US, and because of its lovely shape and proportions. According to my copy of the National Audubon Society's Field Guide to North American Trees,
…this rare species (is) one of the most beautiful flowering trees of the American Forests… Scattered in the Great Smoky Mountains National Park, where wild trees bear abundant (white) flowers at irregular intervals of 2-5 years."
The ground and black band of sky are made of a wonderfully textured knit velvet with silver glitter all over. It was so evocative of night sky I bought it on sight! I used this fabric in other quilts, including Root Domain and The Alarm Clock Rings, till I used up every scrap.
The two large side sections are in two layers. The bottom layer is a gaudy orangish batik. I free-hand quilted a basic "organic" kind of design all over it. I chose a gaudy fabric so it would be somewhat visible through the green sheer. That sheer was another lucky find at the fabric store – I liked the green and blue swaths dyed across it. It doesn't have finished edges. I let the minimal fraying stay so it doesn't have any "unnaturally" straight and clean edges.
The fabric leaves are all traced from actual leaves I've found on my walks in nearby parks. They are attached to the sheers by free-motion sewing of their veins. I sewed a few more to the black section at the top. The sheers are attached to the quilt under the top binding and are loose on the other three sides. I trimmed the inner and bottom edges of each section to be more leaf-like. I had hoped to figure out a plausible way for this sheer to hang a few inches in front of the rest of the quilt, but tamed that idea in favor of practicality. Still, the sheers will move a bit in a breeze or when someone walks by, like leaves rustling in the wind.
"…or maybe there tis cloudless night when swaying beeches bear the Elven stars as jewels white amid their branching hair."
– J. R. R. Tolkien
Details